The Best Day Care In Santa Cruz!
About Us, Location & Sample Schedule
My name is Paula Pailliotet.  I was licensed for a small family daycare in Santa Cruz (six children at one time) in January 2009, but I have cared for children, one family at a time, for years, since before my children were born.  My daughter was born in the San Fernando Valley 1987, and my son was born in Santa Cruz 1990.  They are now grown, so I need more little ones in my life, because you know they can bring so much joy. Then in 2011, I was licensed for a large family daycare (twelve to fourteen children at one time). Now, I always have help from a qualified, local, Aptos assistant, one of them being my daughter, Monique.  The children call her Mika, her nick-name, because it is easier for them to say.
Our Santa Cruz daycare facility is clean and well kept. The yard and home are large so the children do not feel cramped.  Our focus is primarily on safety and love, and then to keep a balance between fun, education, and moral awareness.  We always try to strike that balance.  I feel that it is important to be efficient, and also spontaneous. It is not unusual for any of us to break out in song and dance, or poem, at any given moment.
We love to spend time outdoors, being active, observing our pets, other animals, and nature.  We love to do arts and crafts, so we try to include projects for the age of the children attending. Singing, reading, and "pretend" are also really fun parts of our day. Equally important are food and hygiene.  As you can see, our days are busy, but you already know that, because you are most likely already parents.
Thank you for your interest and the opportunity to care for your child.  I hope this is the beginning of a beautiful relationship.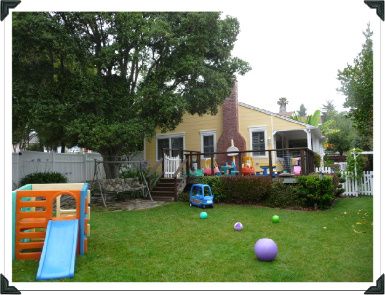 Location
We are conveniently located in Aptos, off of Soquel Drive, very close to Cabrillo College, The Farm Bakery, and Doctors on Duty. Our address is:  2888 Estates Drive, Aptos, CA 95003.
Directions:  Take Soquel Drive to Borregas, (the small street where Doctors on Duty is located on the corner) turn on Borregas toward the ocean, then make an immediate Right turn on Estates Drive.  We are the 2nd house on the left. (Yellow Barn)
Sample Schedule
We do not write this in stone. Sometimes we need to be flexible, or want to be spontaneous, but it is a pretty good outline.  As parents, you know how plans sometimes change, whether it is due to potty training, an explosive diaper, a child's tears, really great weather, or other unforeseen occurrences, so this can only be a sample schedule.
6-7 am- Paula cleans & preps, reads to kids.  Kids read, cuddle, misc. play
7-7:30 am- prep breakfast/ misc.
7:30-8:30 am- eat breakfast
7:50-8:10 am- Paula may walk children to Mar Vista School, if nec.
8:30-9 am-  free play and reading, potty and diaper checks.
9-9:15 am- directed play (theme)
9:15-9:30 am- songs and musical instruments
9:30-10:15 am- art/craft/draw/color
10:15-10:30 am- snack
10:30-11 am- diapers, potty, shoes, and clothes, ready to go outside.
11-12:10 pm- outside (weather permitting)
12:15-12:45 pm- lunch
12:45-1:30 pm- Slowing down, getting ready for quiet-time.
1:30-3:30 pm- Quiet-time
3:30-4 pm- snack.
4-4:30 pm – puzzles, games, or free play
4:30- 4:45- ready to go (shoes, diapers  etc..)
4:45-6 pm- yard, read, misc., and good-byes